Join us
SGCC has worship services, Sunday School and a midweek Bible study each week.
Come and join us!
To get info on places and times, check the calendar
here
to stay informed.
The New Birth
What is the new birth? What does it mean for a person to be a "born-again believer? These questions and more will be addressed in our new Sunday morning Bible Study. Led by Elder Randy Hakala, it is a multi-part video series from the ministry of Dr. Steven Lawson.
Everyone is welcome to attend this study which begins each week at 11:45 a.m.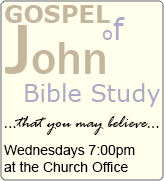 Welcome to the home page of Sovereign Grace Community Church of Petaluma
We meet for
Sunday Morning Worship
at
10 AM
in the Community room of the Valley Orchard Retirement Community, 2100 East Washington Street.
Our Church Office is at:
1310 Commerce Street, Suite B, Petaluma, CA
For more information, call
(707) 778-1296
For other ministry programs, check the Monthly
Ministry Calendar