Visit Us
Worship Opportunities:
Directions:
From Petaluma take Lakeville Rd (Hwy 116) heading SE
Continue past the Frates. Rd/Cader Ln intersection
Take next right onto S McDowell Blvd Ext*, take first right into 3700 Lakeville (Labcon/Harvest Christian School)

*If you turn right on to S McDowell Blvd instead of S McDowell Blvd Ext., proceed for 1 mile and turn LEFT into the 3700 Lakeville parking lot.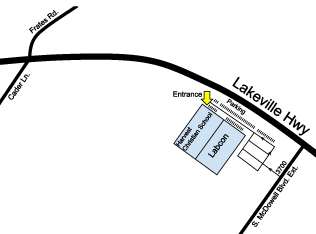 Bible Studies
Wednesday, 7:00pm - Church Office
Check
Calendar
or call us at (707) 778-1296 for latest information.
Biblical Counseling / Church Office
Our church office and biblical counseling center is located at:
1310 Commerce St.
Suite B
Petaluma, CA 94954

Church Office Hours:
Monday - Friday, 9:00am - 5:00pm

Biblical Counseling Center Hours:
Tuesday - Thursday, 9:00am - 5:00pm